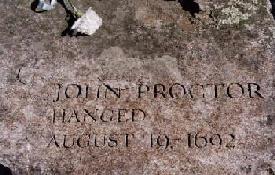 SARAH OSBURN of Salem Village.

Hanged June 10, 1692
BRIDGET BISHOP of Salem

Died in Jail June 16,1692
ROGER TOOTHAKER of Billerica

Died in jail previous to July 19, 1692
INFANT DAUGHTER to Sarah Good of Salem Village

Hanged July 19, 1692
SARAH GOOD of Salem Village
ELIZABETH HOW of Topsfield
SUSANNAH MARTIN of Amesbury
REBECCA NURSE of Salem Village
SARAH WILDS of Topsfield

Hanged August 19, 1692
REV. GEORGE BURROUGHS of Wells, Maine,
formerly of Salem Village
MARTHA CARRIER of Andover
GEORGE JACOBS, SR. of Salem
JOHN PROCTER, SR. of Salem Farmes
JOHN WILLARD of Salem Village

Died under torture September 19, 1692
GILES CORY of Salem Farmes

Hanged September 22, 1692
MARTHA CORY of Salem Farmes
MARY ESTY of Topsfield
ALICE PARKER of Salem
MARY PARKER of Andover
ANN PUDEATOR of Salem
WILMOT REDD of Marblehead
MARGARET SCOTT of Rowley
SAMUEL WARDWELL of Andover

Died in jail December 3,1692
ANN FOSTER of Andover

Died in jail March 10, 1693
LYDIA DASTIN of Reading
These are all the people in Salem who died for no reason. To the families of the previously listed people, we send our condolences. These people died for an unjust reason and we hope forever that you will keep them in your hearts.